Serving appetizers with a Southwest flair is a hit at any gathering.
MEATY EMPANADAS
Makes 12 appetizer servings
PREP: 30 MIN., COOK: 35 MIN., CHILL: 1 HR.
Author: VIVIAN WATERS, THOMASVILLE, GEORGIA
Ingredients:
¾ pound ground beef
¼ pound sweet Italian sausage
1 large sweet onion, diced
1 ½ cups sliced fresh mushrooms
1 (8-ounce) can tomato sauce
1 ½ tablespoons Cajun seasoning
½ cup (2 ounces) shredded Monterey Jack cheese
3 (7.5-ounce) cans refrigerated biscuits
1 large egg, lightly beaten
Vegetable oil
Toppings: salsa and sour cream
Directions:
COOK ground beef and sausage in a large skillet over medium heat, stirring until mixture crumbles and is no longer pink. Drain and set aside, reserving 2 tablespoons drippings in skillet.
SAUTÉ onion in hot drippings 5 minutes or until tender. Add mushrooms; sauté 2 minutes.
RETURN beef mixture to skillet; stir in tomato sauce and Cajun seasoning. Simmer, stirring occasionally, 8 minutes or until liquid evaporates. Cool completely. Stir in cheese. Cover and chill thoroughly.
ROLL biscuits into 4-inch circles on a lightly floured surface. Spoon 1 tablespoon beef mixture in center of each circle; brush edges with egg. Fold edges over, pressing with a fork to seal. Place on baking sheets, and cover with a damp cloth. Chill up to 2 hours, if desired.
POUR oil to a depth of ½ inch into a Dutch oven. Fry empanadas in hot oil, in batches, 30 seconds on each side or until golden. Drain on paper towels; serve with desired toppings.
source: Southern Living Magazine
, May 2005
Copyright Southern Progress Corporation May 2005
As seen on TV.
Turn an OOPS into a WOW!
Super-absorbent SHAM WOW towels sop up all types of spills and messes – coffee, wine, pet stains – uniquely able to hold up to 12x its weight in liquid! That means no more dripping sponges and dish rags. No more wasteful paper towels too. Sham Wow is machine washable & bleachable, and highly durable complete with a 10 year warranty.
• Super absorbent all-purpose towels • Holds 12 times its weight in water
• Includes 4 mini (blue) and 4 large (yellow) • Doesn't drip when you take it to the sink • Use for any type of liquid pick-up • Made of Rayon, Non-Scratch
Ready. Set. Clean! Get pristine floors & counter-tops with a quick sweep of German-made SHAM WOW towels. SHAM WOW is the all-in-one, super-absorbent sop-up cleaning towel.
Yours FREE* for a limited time only. Simply take our survey & complete the participation requirements where you sample and purchase products of interest. It's that easy!
>>
CLICK HERE To Get SHAM WOW NOW
<<
*See Terms and Gift Rules
FREE Sharpener with Wusthof Purchase! Only at macys.com!
Offer Valid through 10-May-2009.
For example: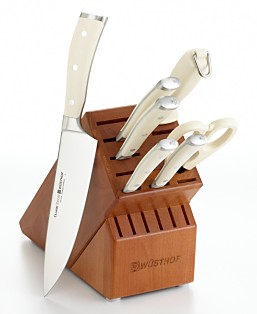 Wusthof Classic Ikon Crème 8-Piece Cutlery Set in Cherry Block
Reg. $785.00 + FREE sharpener
Sale $449.99
The edge of elegance. This superb cutlery set from Wusthof is exceptional in its sharpness and just as respected for its style. Each blade is forged and hand-honed from high-carbon steel, then finished with a stunning ivory-colored handle. Lifetime warranty.
Set includes: 3.5" paring knife, 4.5" utility knife, 8" bread knife, 6" sandwich knife, 8" cooks knife, 9" honing steel, come-apart shears and a handsome 17-slot cherry block.
Click here to see the entire Wusthof collection!
UNTIL NEXT TIME
We'll miss you!
Visit us at
Recipes.it
for more than 3,000 recipes.
And share your favorite Cinco de Mayo recipe with us:
write to recipereq[AT]recipes.it