Ah, Paris Paris toujours Paris!
I'm back from France where I enjoyed the places, the people and the French food for two weeks. Vive la France!
When you think of France you think of Tour Eiffel, but when you think of French food what are the first things that come to your mind? For me foie gras, champagne and the onion soup. The following recipe is one of the best and most famous versions of the onion soup you can ever taste.
SOUPE A L'OIGNON GRATINEE CHEZ BRASSERIE BALZAC
A single word, gratinée, is sufficient to order French onion soup at the restaurant. This version is made with water and white wine and is light enough so as not to completely rule out a meaty main course to follow. You may substitute a beef or chicken stock if you want to make the soup a meal.
Preparation time: 10 Minutes + Cooking time: 1 hour
Makes 4 servings
Ingredients:
3 tablespoons unsalted butter
1-1/2 pounds onions, thinly sliced
2 tablespoons flour
1 quart water
1 cup dry white wine (such as Macon)
1 bouquet garni (thyme, parsley, bay leaf)
Salt and freshly ground black pepper
1 baguette, sliced into thin rounds and toasted
1/2 pound Gruyere or Swiss cheese shredded
Directions:
1. Preheat the oven to 325F.
2. Melt the butter in a large saucepan over medium heat, add the onions, and cook, stirring, until golden color sets in, 6 to 8 minutes. Add the flour and stir with the onions for 3 minutes.
3. Add the water, white wine, and bouquet garni and simmer for 30 minutes. Remove the bouquet garni, add salt and pepper to taste, and then pour the soup into 4 oven-proof bowls.
4. Dunk the rounds of toast into each bowl of soup and sprinkle liberally with the shredded Gruyere.
5. Bake in the oven for 15 minutes, then set under a hot broiler to brown the top.
Adapted from
The Paris Cafe Cookbook : Rendezvous and Recipes from 50 Best Cafes
If you happen to visit Paris, Brasserie Balzac is in rue des Ecoles 49, you can take the Subway heading to Cluny-La Sorbonne. +33.(0)1.43.54.13.67 to reserve a table. Worth the visit!
Hungry for more? Don't be. There's plenty of French recipes on Recipes.it (
link
) including excellent recipes by Patricia Wells, Joël Robuchon, Julia Child. To complete your French cooking preparation we've selected some good cookbooks:

Classic French Cooking: Recipes for Mastering the French Kitchen
Written by the prize winning author Elisabeth Luard, Classic French Cooking is a product of a lifetime of learning. In this book she brings together the core recipes that are the building blocks for all French cooking. It guarantees the reader an easy entree into the world of regional French cooking and many hours of enjoyable creativity in the kitchen.

The Country Cooking of France
Renowned for her cooking school in France and her many best-selling cookbooks, Anne Willan combines years of hands-on experience with extensive research to create a brand new classic. More than 250 recipes range from the time-honored La Truffade, with its crispy potatoes and melted cheese, to the Languedoc specialty Cassoulet de Toulouse, a bean casserole of duck confit, sausage, and lamb. And the desserts! Cr pes au Caramel et Beurre Sal (cr pes with a luscious caramel filling) and Galette Landaise (a rustic apple tart) are magnifique. Sprinkled with intriguing historical tidbits and filled with more than 270 enchanting photos of food markets, villages, harbors, fields, and country kitchens, this cookbook is an irresistible celebration of French culinary culture.

My French Kitchen: A Book of 120 Treasured Recipes
In My French Kitchen bestselling author Joanne Harris, along with acclaimed food writer Fran Warde, shares her treasured collection of family recipes that has been passed down from generation to generation. All the classics are here: Quiche Lorraine, Moules Marinière, Coq au Vin, and Crème Brûlée, plus an entire chapter devoted to French chocolate, including cakes, meringues, and spiced hot chocolate.

Eric Kayser's New French Recipes
Inspired by the hearty and nutritious ingredients that he uses in his bakeries, Éric Kayser has created 50 new recipes that celebrate "superfood" ingredients such as whole grains (wheat, rye, oats), seeds (sesame, sunflower, poppy), dried fruit (prunes, raisins, figs), and nuts (hazelnuts, almonds, pine nuts). Kayser includes both sweet and savory recipes that will dazzle your taste buds: try chestnut, apricot, and pistachio bread; mussels in a lime-and-beer sauce; or eggplant caviar drizzled with sesame oil—the options for delicious and balanced meals are endless! Kayser's fresh approach to cooking offers nutritious, flavorful dishes that are simple and enjoyable to prepare, for experienced chefs and fledgling cooks alike. His recipes are a fresh and easy take on French cuisine today.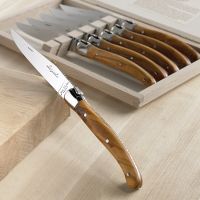 The Jean Dubost Laguiole Steak Knives
$199.95
Made in Viscomat, France by Jean Dubost, world-renowned cutlers since 1920, these are the Laguiole steak knives favored by prime steakhouses. Made in the 200 year-old tradition of the Laguiole knife, the cutlery has the sturdy stainless steel blade, solid steel bolster, and iconic "bee" engraved into the top bolster. French legend has it that Napoleon Bonaparte awarded his imperial seal--the bee--to the village of Laguiole for the valor of its soldiers. The blade is stamped, ground, and polished by a team of blacksmiths and cutlers during a 25-step process. The solid handle is made from olive wood, a tight-grained durable hardwood that, combined with the hand-sharpened, double-bevel edge blade, provides the necessary heft for quickly cutting through N.Y. strip steaks or double-cut pork chops. The knives have a 4 1/4" blade, measure 9" long overall, and come in a wooden storage box. 9" L x 1/2" W x 3/4" H. (2 3/4 oz.)
get them at
Hammacher Schlemmer
NEW Cordless Margaritaville $299 - Plus Free Shipping
Now through June 21, 2009 only at
Frontgate
Lose the cord, and keep the performance with our revolutionary new Cordless Margaritaville ® Frozen Margarita Machine blends up to 70 drinks on a single charge. Whether you're tailgating, camping, boating, or simply outside by the pool, you no longer need electricity to create the world's most delicious frozen drinks.
---
Save up to 25% on gourmet food & gifts at
Drugstore.com
Offer ends 6/19
---
Get 10% off Kenmore Grills + 15% off any Grill Accessory with purchase of any grill at
Sears website
Expires: 6/13
---
Get 5% off Gourmet Coffee at
Honey Bean Coffee
wih
Coupon Code: save5
Expires: 8/19
UNTIL NEXT TIME
We'll miss you!
Visit us at
Recipes.it
for more than 3,000 recipes.
And share your favorite recipe with us:
write to recipereq[AT]recipes.it